Announcements
---
In order to celebrate your birthdays, weddings, public events… You might need an announcement banner at the front gate of the event. At Digital Printing ltd, we do not only the printing job but also have the design services to make your announcements as noticable as it can be. About the announcement Annoucements are made from vinyl or paper plastic banners. It is hanged on the entrance or the X standee  to give the message of the special occasion like "Happy birthday" or
In order to celebrate your birthdays, weddings, public events… You might need an announcement banner at the front gate of the event. At Digital Printing ltd, we do not only the printing job but also have the design services to make your announcements as noticable as it can be.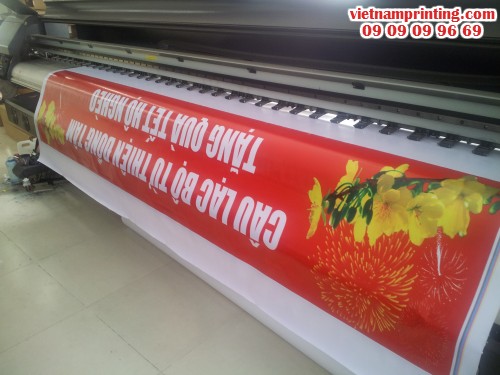 About the announcement
Annoucements are made from vinyl or paper plastic banners. It is hanged on the entrance or the X standee to give the message of the special occasion like "Happy birthday" or "Just married"… These banners are printed in full-colors with digital color printing technology. We can print your banner in a larger format thanks to our large format digital printer system.
If you already have a design, our printers run on the CMYK color mode, so make sure your design are in CMYK mode when sending your design. Because when converting from the RGB color mode, the printer will make an undesirable printing color quality.
Announcements Printing Services at Digital Printing ltd.
At Digital Printing ltd, we provide the best business document printing services and price in Ho Chi Minh city and even all over the country. Because we have:
The Japanese brand Mimaki printers for oil-based ink products.
The water-based ink large format printer for larger design printing.
Years of printing experience: with our 10 years experience in printing business, all of our departments: customer services, printing process workers, post-printing process workers… are ready to meet variety of demands from out customers.
Pre-printing design/Retouching services from customers' order: Refining your design to the best quality before printing.
Delivery service: No matter you are in the city or the other provinces, we will receive all of your printing order and deliver them to your own home or company.
For further information about our full service printing, you can contact us through these phone number series 09 09 09 96 69 - (08) 2237 6666 – (08) 2238 6666 – (08) 224 66666 or the email innhanh@inkythuatso.com to have yourself consult about our services as soon as possible.
Direct contact at our printing center at 365 Lê Quang Định Street, Ward 5, District Bình Thạnh, HCM city.
To have the most accurateprinting order, you might need to contact us at the printing center Digital Printing ltd with the address 365 Lê Quang Định Street, ward 5, District Bình Thạnh, HCM city.
About some more of our product, please contact us at the main website at inkythuatso.com. In here, we may provide you with more detailed information about our company, our products, and services.
Being there, you can describe how your product should look like to our consultant; Moreover, we can show you samples of our printing products that we had been printing for our recent customers; our real product samples will let you have a more clearly insight about our products when printing at Digital Printing ltd.
Right when you had a need of printing services, please contact us at Digital Printing ltd immediately to get the most competitive price in the market, order instruction, delivery information, and the most convenient paying method.
Xem thêm: http://48h.vn/chia-se-cung-ban.html
Announcements, 2, Chuyên trang cộng đồng In ấn và bao bì của MuaBanNhanh, Minh Thiện, Cộng đồng in ấn và bao bì quảng cáo của MuaBanNhanh - In quảng cáo, in kỹ thuật số, offet, UV, 3D, ống đồng, lụa, flexo; tư vấn máy in quảng cáo phù hợp từng sản phẩm in ấn, 02/08/2016 14:37:07
Đăng bởi Minh Thiện
Announcements - Hotline in ấn gặp CSKH 0901 189 365 - 0901 188 365 - 0906 819 365 Trực tiếp đặt InKyThuatSo tại: 365 Lê Quang Định, Phường 5, Quận Bình Thạnh, TPHCM | Gửi email đặt nhận báo giá ngay in@inkts.com - innhanh@inkythuatso.com | Business Document Printing
Tags:
announcement printing service
,
banner printing service
,
digital printing
,
full service printing
,
Large Format printing
,
printing service binh thanh
,
printing service in hcm city
,
vietnam printing
Các bài viết liên quan đến Announcements , Business Document Printing