Large Format Digital Printing
---
We utilize the most current technology in our industry. Our state-of-the-art equipment allows us to provide our clients with high-quality products on time and on budget We realize that most people could care less about what model of press or copy machine we use, so long as they receive what they ordered. Still, we can't help being proud of our toys. Once you see how great they make you look, we hope you'll be proud of them, too. Point Of Purchase There's no place where great printing can make
We utilize the most current technology in our industry. Our state-of-the-art equipment allows us to provide our clients with high-quality products on time and on budget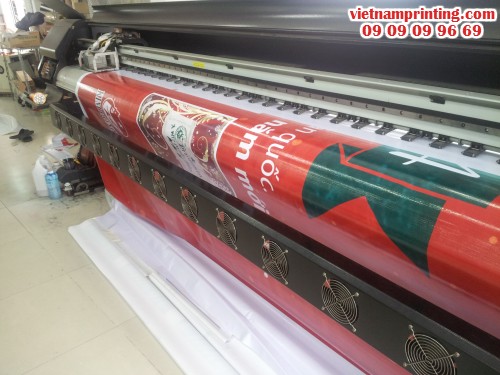 We realize that most people could care less about what model of press or copy machine we use, so long as they receive what they ordered. Still, we can't help being proud of our toys. Once you see how great they make you look, we hope you'll be proud of them, too.
Point Of Purchase
There's no place where great printing can make an immediate impact like your in-store displays. From simple posters and signage to more elaborate displays, we can help you make an instant impact with great point of purchase campaigns.
Banners
A big area calls for a big statement. And that's exactly what we deliver with every banner we print.
Yard Signs
Political signs to event signage we can help. Upload your art or request an estimate and we will produce as many as you need.
Posters
Put your professionalism on full display. For years, our team has helped local businesses create posters that demand a second look.
Trade Shows
When it's time for the big event, put your brand on center stage. Team up with us to create your trade show display, and make every second count.
Test Samples printing – the best way to meet customers' demand.
Instead of printing your order rightaway; we focus into a better quality large format printing service; our product have to meet the even the tallest order. Therefore, the test samples printing service was available for customers as an evidence of our printing quality.
For larger formating products: Customer chooses a part of their design to print out; they will have a view of the sample to see if the color and image has met the quality; If the customer is satisfied with the result, we will print out their order.
For offset printing products (large quatity order): we print a sample by digital color printing technology, with the color quality equal to 70% of the offset.
You can go to our printing center at 365 Lê Quang Định, Phường 5, Quận Bình Thạnh, Tp.HCM to have a look in our test sample printing service.
How to order your annual report to Digital Printing ltd.
Our customer service phone number (08) 2237 6666 – (08) 2238 6666 – (08) 224 66666 – 09 09 09 96 69 will receive your order through the phone in the regular business hours.
Our email address: innhanh@inkythuatso.com will not only receive your order but also your own design; if your files are too large, there are two method you can use:

Upload your files to Google Drive and share the file link to the email innhanh@inkythuatso.com
Copy your files to the USB flash drive or external harddisk and bring it to our printing center Digital Printing

After receiving your order, we will check your files and give the exact cost of the services to you; after printing and processing, we will either notify you to get the order or deliver it (delivery will have extra charges).
With 10 years experience in printing services, from printing for advertisement, for event planning, for businesses,… we had done orders from varieties of customers from individuals, shops to companies, NGOs, school and universities,… Our experience in printing and processing will guarantees you the best quality of the printing products.
About some more of our large format printing product, please contact us at these website: inpp.com.vn and indecal.com.vn. In here, we may provide you with more detailed information about our company, our products, and services.
Large Format Digital Printing, 58, Chuyên trang cộng đồng In ấn và bao bì của MuaBanNhanh, Minh Thiện, Cộng đồng in ấn và bao bì quảng cáo của MuaBanNhanh - In quảng cáo, in kỹ thuật số, offet, UV, 3D, ống đồng, lụa, flexo; tư vấn máy in quảng cáo phù hợp từng sản phẩm in ấn, 24/10/2015 09:11:04
Đăng bởi Minh Thiện
Large Format Digital Printing - Hotline in ấn gặp CSKH 0901 189 365 - 0901 188 365 - 0906 819 365 Trực tiếp đặt InKyThuatSo tại: 365 Lê Quang Định, Phường 5, Quận Bình Thạnh, TPHCM | Gửi email đặt nhận báo giá ngay in@inkts.com - innhanh@inkythuatso.com | Large Format printing
Tags:
banner printing
,
digital printing
,
full service printing
,
Large Format printing
,
larger format printing
,
poster printing
,
printing for tr
,
printing service binh thanh
,
printing service in hcm city
,
trade show printing
,
vietnam printing
,
yard sign printing
Các bài viết liên quan đến Large Format Digital Printing , Large Format printing